Last Updated:
Dr. Mariam Konaté Monnard
Computational Biologist, Computational & Systems Biology Branch
Research Interests
Biomarker discovery, integrative genomics, cancer epigenetics, gene expression analysis, structural bioinformatics
Selected Recent Publications:
Zhao Y, Li MC, Konate MM, Chen L, Das B, Karlovich C, Williams PM, Evrard YA, Doroshow JH, McShane LM. TPM, FPKM, or Normalized Counts? A Comparative Study of Quantification Measures for the Analysis of RNA-seq Data from the NCI Patient-Derived Models Repository. J Transl Med, 19: 269, 2021.
Chen AP, Kummar S, Moore N, Rubinstein LV, Zhao Y, Williams PM, Palmisano A, Sims D, O'Sullivan Coyne G, Rosenberger CL, Simpson M, Raghav KPS, Meric-Bernstam F, Leong S, Waqar S, Foster JC, Konate MM, Das B, Karlovich C, Lih CJ, Polley E, Simon R, Li MC, Piekarz R, Doroshow JH. Molecular Profiling-Based Assignment of Cancer Therapy (NCI-MPACT): A Randomized Multicenter Phase II Trial. JCO Precis Oncol, 5:PO.20.003722021, 2021.
Konate MM, Antony S, Doroshow JH. Inhibiting the Activity of NADPH Oxidase in Cancer. Antioxid Redox Signal. 33: 435-454, 2020.
Lu J, Jiang G, Wu Y, Antony S, Meitzler JL, Juhasz A, Liu H, Roy K, Makhlouf H, Chuaqui R, Butcher D, Konate MM, Doroshow JH. NADPH oxidase 1 is highly expressed in human large and small bowel cancers. PLoS One. 15: e0233208, 2020.
Navas T, Kinders RJ, Lawrence SM, Ferry-Galow KV, Borgel S, Hollingshead MG, Srivastava AK, Alcoser SY, Makhlouf HR, Chuaqui R, Wilsker DF, Konate MM, Miller SB, Voth AR, Chen L, Vilimas T, Subramanian J, Rubinstein L, Kummar S, Chen AP, Bottaro DP, Doroshow JH, Parchment RE. Clinical Evolution of Epithelial-Mesenchymal Transition in Human Carcinomas. Cancer Res, pii, 2019.
Wu Y, Konate MM, Lu J, Makhlouf H, Chuaqui R, Antony S, Meitzler JL, Difilippantonio MJ, Liu H, Juhasz A, Jiang G, Dahan I, Roy K, Doroshow JH. IL-4 and IL-17A Cooperatively Promote Hydrogen Peroxide Production, Oxidative DNA Damage, and Upregulation of Dual Oxidase 2 in Human Colon and Pancreatic Cancer Cells. J Immunol, ji1800469, 2019.
Konate MM, Plata G, Park J, Usmanova DR, Wang H, Vitkup D. Molecular function limits divergent protein evolution on planetary timescales. Elife, 8: e39705, 2019.
Meitzler JL, Konate MM, Doroshow JH. Hydrogen peroxide-producing NADPH oxidases and the promotion of migratory phenotypes in cancer. Arch Biochem Biophys, Aug 12: 108076, 2019.
Monks A, Zhao Y, Hose C, Hamed H, Krushkal J, Fang J, Sonkin D, Palmisano A, Polley E, Fogli L, Konate M, Miller S, Simpson M, Voth A, Li M-C, Harris E, Wu X, Connelly J, Rapisarda A, Teicher B, Simon R, Doroshow JH. The NCI Transcriptional Pharmacodynamics Workbench: a tool to examine dynamic expression profiling of therapeutic response in the NCI-60 cell line panel. Cancer Research, 78: 6807-6817, 2018.
Antony S, Jiang G, Wu Y, Meitzler JL, Makhlouf HR, Haines DC, Butcher D, Hoon DS, Ji J, Zhang Y, Juhasz A, Lu J, Liu H, Dahan I, Konate M, Roy KK, Doroshow JH. NADPH oxidase 5 (NOX5)-induced reactive oxygen signaling modulates normoxic HIF-1α and p27Kip1 expression in malignant melanoma and other human tumors. Molecular Carcinogenesis, 56:2643-2662, 2017.
Lu J, Risbood P, Kane CT Jr, Hossain MT, Anderson L, Hill K, Monks A, Wu Y, Antony S, Juhasz A, Liu H, Jiang G, Harris E, Roy K, Meitzler JL, Konate M, Doroshow JH. Characterization of potent and selective iodonium-class inhibitors of NADPH oxidases. Biochemical Pharmacology, 143:25-38, 2017.
Gallagher SS, Jing C, Peterka DS, Konate M, Wombacher R, Kaufman LJ, Yuste R, Cornish VW. A trimethoprim-based chemical tag for live cell two-photon imaging. Chembiochem, 11:782-784, 2010.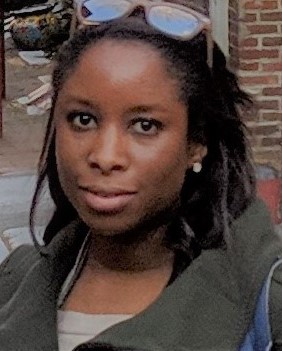 Office Address:
Room 5W116
9609 Medical Center Dr
Rockville, MD 20850
Contact Information:
Tel: (240) 276-6273
Fax: (240) 276-7888
Email:mariam.konate@nih.gov