Last Updated:
Dr. Dmitriy Sonkin
Computational Biologist, Computational & Systems Biology Branch
Research Interests
Cancer diagnosis, ctDNA, target and biomarker discovery, genomic characterization of cancer models, variants annotation.
Selected Publications (full list available here):
Peter Horak, Malachi Griffith, Arpad M. Danos, Beth A. Pitel, Subha Madhavan, Xuelu Liu, Cynthia Chow, Heather Williams, Leigh Carmody, Lisa Barrow-Laing, Damian Rieke, Simon Kreutzfeldt, Albrecht Stenzinger, David Tamborero, Manuela Benary, Padma Sheila Rajagopal, Cristiane M. Ida, Harry Lesmana, Laveniya Satgunaseelan, Jason D. Merker, Michael Y. Tolstorukov, Paulo Vidal Campregher, Jeremy L. Warner, Shruti Rao, Maya Natesan, Haolin Shen, Jeffrey Venstrom, Somak Roy, Kayoko Tao, Rashmi Kanagal-Shamanna, Xinjie Xu, Deborah I. Ritter, Kym Pagel, Kilannin Krysiak, Adrian Dubuc, Yassmine M. Akkari, Xuan Shirley Li, Jennifer Lee, Ian King, Gordana Raca, Alex H. Wagner, Marylin M. Li, Sharon E. Plon, Shashikant Kulkarni, Obi L. Griffith, Debyani Chakravarty, Dmitriy Sonkin: Standards for the classification of pathogenicity of somatic variants in cancer (oncogenicity): Joint recommendations of Clinical Genome Resource (ClinGen), Cancer Genomics Consortium (CGC), and Variant Interpretation for Cancer Consortium (VICC). Genetics in Medicine, 2022; 10.1016/j.gim.2022.01.001
Suleyman Vural, Lun-Ching Chang, Laura M Yee, Dmitriy Sonkin: TP53 isoform junction reads based analysis in malignant and normal contexts. Scientific reports, 2021; 10.1038/s41598-021-96700-1
Alida Palmisano, Suleyman Vural, Yingdong Zhao, Dmitriy Sonkin: MutSpliceDB: A database of splice sites variants with RNA‐seq based evidence on effects on splicing. Human Mutation, 2021; 10.1002/humu.24185
Alex Handler Wagner, Brian Walsh, Georgia Mayfield, David Tamborero, Dmitriy Sonkin, Kilannin Krysiak, Jordi Deu Pons, Ryan Duren, Jianjiong Gao, Julie McMurry, Sara Patterson, Catherine Del Vecchio Fitz, Ozman Ugur Sezerman, Jeremy Warner, Damian T Rieke, Tero Aittokallio, Ethan Cerami, Deborah Ritter, Lynn M Schriml, Melissa Haendel, Gordana Raca, Subha Madhavan, Michael Baudis, Jacques S Beckmann, Rodrigo Dienstmann, Debyani Chakravarty, Xuan Shirley Li, Susan M Mockus, Olivier Elemento, Nikolaus Schultz, Nuria Lopez-Bigas, Mark Lawler, Jeremy Goecks, Malachi Griffith, Obi L Griffith, Adam Margolin: A harmonized meta-knowledgebase of clinical interpretations of somatic genomic variants in cancer. Nature genetics, 2020; 52, 448-457
Dmitriy Sonkin, Vural Suleyman, Anish Thomas, Beverly A. Teicher: Neuroendocrine negative SCLC is mostly RB1 WT and may be sensitive to CDK4/6 inhibition. BIORXIV, 2019; 516351
Mahmoud Ghandi, Franklin W Huang, Judit Jane-Valbuena, Gregory V Kryukov, Christopher C Lo, E Robert McDonald, Jordi Barretina, Ellen T Gelfand, Craig M Bielski, Haoxin Li, Kevin Hu, Alexander Y Andreev-Drakhlin, Jaegil Kim, Julian M Hess, Brian J Haas, Francois Aguet, Barbara A Weir, Michael V Rothberg, Brenton R Paolella, Michael S Lawrence, Rehan Akbani, Yiling Lu, Hong L Tiv, Prafulla C Gokhale, Antoine De Weck, Ali Amin Mansour, Coyin Oh, Juliann Shih, Kevin Hadi, Yanay Rosen, Jonathan Bistline, Kavitha Venkatesan, Anupama Reddy, Dmitriy Sonkin, Manway Liu, Joseph Lehar, Joshua M Korn, Dale A Porter, Michael D Jones, Javad Golji, Giordano Caponigro, Jordan E Taylor, Caitlin M Dunning, Amanda L Creech, Allison C Warren, James M McFarland, Mahdi Zamanighomi, Audrey Kauffmann, Nicolas Stransky, Marcin Imielinski, Yosef E Maruvka, Andrew D Cherniack, Aviad Tsherniak, Francisca Vazquez, Jacob D Jaffe, Andrew A Lane, David M Weinstock, Cory M Johannessen, Michael P Morrissey, Frank Stegmeier, Robert Schlegel, William C Hahn, Gad Getz, Gordon B Mills, Jesse S Boehm, Todd R Golub, Levi A Garraway, William R Sellers: Next-generation characterization of the Cancer Cell Line Encyclopedia. Nature, 2019; 569(7757):503-508
Michael F Walsh, Deborah I Ritter, Chimene Kesserwan, Dmitriy Sonkin, Debyani Chakravarty, Elizabeth Chao, Rajarshi Ghosh, Yelena Kemel, Gang Wu, Kristy Lee, Shashikant Kulkarni, Dale Hedges, Diana Mandelker, Ozge Ceyhan-Birsoy, Minjie Luo, Michael Drazer, Liying Zhang, Kenneth Offit, Sharon E Plon: Integrating somatic variant data and biomarkers for germline variant classification in cancer predisposition genes. Human Mutation, 2018; 10.1002/humu.23640
Chang Lun-Ching, Vural Suleyman, Dmitriy Sonkin: Detection of homozygous deletions in tumor-suppressor genes ranging from dozen to hundreds nucleotides in cancer models. Human Mutation, 2017; 10.1002/humu.23308
Deborah I. Ritter, Sameek Roychowdhury, Angshumoy Roy, Shruti Rao, Melissa J. Landrum, Dmitriy Sonkin, Mamatha Shekar, Caleb F. Davis, Reece K. Hart, Christine Micheel, Meredith Weaver, Eliezer M. Van Allen, Donald W. Parsons, Howard L. McLeod, Michael S. Watson, Sharon E. Plon, Shashikant Kulkarni, Subha Madhava: Somatic cancer variant curation and harmonization through consensus minimum variant level data. Genome Medicine, 2016 November 4; 8:117
Eric Polley, Mark Kunkel, David Evans, Thomas Silvers, Rene Delosh, Julie Laudeman, Chad Ogle, Russell Reinhart, Michael Selby, John Connelly, Erik Harris, Nicole Fer, Dmitriy Sonkin, Gurmeet Kaur, Anne Monks, Shakun Malik, Joel Morris, Beverly A. Teicher : Small Cell Lung Cancer Screen of Oncology Drugs, Investigational Agents, and Gene and microRNA Expression. Journal of the National Cancer Institute, 2016; 10.1093/jnci/djw122
Liacine Bouaoun, Dmitriy Sonkin, Maude Ardin, Monica Hollstein, Graham Byrnes, Jiri Zavadil, Magali Olivier: TP53 Variations in Human Cancers: New Lessons from the IARC TP53 Database and Genomics Data. Human Mutation, Jun 22, 2016; 10.1002/humu.23035
Dmitriy Sonkin: Expression signature based on TP53 target genes does not predict response to TP53-MDM2 inhibitor in wild type TP53 tumors. eLife, Oct 22, 2015; 10.7554/eLife.10279
Nicolas Stransky, Mahmoud Ghandi, Joseph Lehar, Arnaud Amzallag, Michael P. Menden, Francesco Iorio, Gregory V. Kryukov, Manway Liu, Dmitriy Sonkin, Elena Edelman, Markus Riester, Jordi Barretina, Audrey Kauffmann, Giordano Caponigro, Kavitha Venkatesan, Julio Saez-Rodriguez, Michael R. Stratton, Mathew J. Garnett, Ultan McDermott, Iulian Pruteanu-Malinici, Daniel A. Haber, Sridhar Ramaswamy, William Sellers, Robert Schlegel, Frank Stegmeier, Michael Morrissey, Cyril H. Benes, Levi A. Garraway: Pharmacogenomic agreement between two cancer cell line data sets. Nature, 2015; 528(7580):84.87
Dmitriy Sonkin, Michael Palmer, Xianhui Rong, Kim Horrigan, Catherine Regnier, Christie Fanton, Jocelyn Holash, Maria Pinzon-Ortiz, Matthew Squires, Andres Sirulnik, Thomas Radimerski, Robert Schlegel, Michael Morrissey, Alexander Cao: The identification and characterization of a STAT5 gene signature in hematologic malignancies. Cancer Biomarkers, 2015, 15(1):79-87.
Marie Schoumacher, Kristen Hurov, Joseph Lehar, Yan Yan-Neale, Yuji Mishina, Dmitriy Sonkin, Joshua Korn, Daisy Flemming, Michael Jones, Janine Steiger, Jebediah Ledell, Mark Stump, William Sellers, Nika Danial, Wenlin Shao: Inhibiting TNKS sensitizes KRAS mutant cancer cells to MEK inhibitors by suppressing FGFR2 feedback signaling. Cancer Research, 2014 Jun 15; 74(12):3294-305.
Dmitriy Sonkin, Mehedi Hassan, Denis Murphy, Tatyana T. Tatarinova: Tumor Suppressor Status in Cancer Cell Line Encyclopedia. Molecular Oncology, Volume 7, Issue 4, August 2013, Pages 791-798.
Jordi Barretina, Giordano Caponigro, Nicolas Stransky, Kavitha Venkatesan, Adam A.Margolin, Sungjoon Kim, Christopher J. Wilson, Joseph Lehar, Gregory V. Kryukov, Dmitriy Sonkin, Anupama Reddy, Manway Liu, Lauren Murray, Michael F. Berger, John E. Monahan, Paula Morais, Jodi Meltzer, Adam Korejwa, Filipa A. Mapa, Joseph Thibault, Eva Bric-Furlong, Pichai Raman, Aaron Shipway, Ingo H. Engels, Jill Cheng, Guoying K.Yu, Jianjun Yu, Peter Aspesi Jr., Melanie de Silva, Kalpana Jagtap, Michael D. Jones, Charles Hatton, Emanuele Palescandolo, Supriya Gupta, Scott Mahan, Carrie Sougnez, Robert C. Onofrio, Ted Liefeld, Laura MacConaill, Wendy Winckler, Michael Reich, Nanxin Li, Jill P. Mesirov, Stacey B. Gabriel, Gad Getz, Kristin Ardlie, Vivien Chan, Vic E. Myer, Barbara L. Weber, Jeff Porter, Markus Warmuth, Peter Finan, Jennifer L. Harris, Matthew Meyerson, Todd R. Golub, Michael P. Morrissey, William R. Sellers, Robert Schlegel, Levi A. Garraway: The Cancer Cell Line Encyclopedia: modeling preclinical stratification for anticancer drug sensitivity. Nature, 2012 Mar 28; 483(7391):603-7.
Margaret McLaughlin, Alix Scholer-Dahirel, Michael Schlabach, Alice Loo, Linda Bagdasarian,Ronald Meyer, Ribo Guo, Steve Woolfenden, Kristine Yu, Judit Markovits, Karen Killary, Dmitriy Sonkin, Yung-mae Yao, William Sellers, Robert Schlegel, Frank Stegmeier, Rebecca Mosher: Maintenance of APC-mutant colorectal cancer is dependent on Wnt/β-catenin signaling. PNAS, 2011 108 (41), 17135-17140.
Mari Kuraguchi, Nana Yaw Ohene-Baah, Dmitriy Sonkin, Roderick T. Bronson, Raju Kucherlapati: Genetic Mechanisms in Apc-Mediated Mammary Tumorigenesis. PLoS Genetics, 2009 5(2): e1000367. doi:10.1371/journal.pgen.1000367.
Melanie Kucherlapati, Kan Yang, Kunhua Fan, Mari Kuraguchi, Dmitriy Sonkin, Andrew Rosulek, Martin Lipkin, Roderick Bronson, Bruce Aronow, Raju Kucherlapati: Loss of Rb1 in the Gastrointestinal Tract of Apc1638N Mice Promotes Tumors of the Cecum and Proximal Colon. PNAS, 2008 105(40):15493-15498.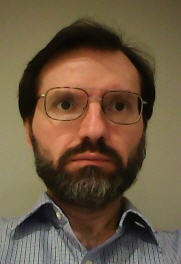 Office Address:
Room 4W614
9609 Medical Center Dr
Rockville, MD 20850
Contact Information:
Tel: (240) 276-5678
Fax: (240) 276-7888
Email:dmitriy.sonkin@nih.gov