Last Updated:
Dr. Yuri Kotliarov
Computational Biologist, Computational and Systems Biology Branch
Research Interests
Systems biology, integrated analysis of expression, proteomics and single cell data, predictive modeling.
Selected Publications:
Kotliarov Y, Sparks R, Martins AJ, Mulè MP, Lu Y, Goswami M, Kardava L, Banchereau R, Pascual V, Biancotto A, Chen J, Schwartzberg PL, Bansal N, Liu C, Cheung F, Moir S, Tsang JS. Broad immune activation underlies shared set point signatures for vaccine responsiveness in healthy individuals and disease activity in lupus patients. Nature Medicine, 2020; 26:618.
Tsang JS, Schwartzberg PL, Kotliarov Y, Biancotto A, Xie Z, Germain RN, Wang E, Olnes MJ, Narayanan M, Golding H, Moir S, Dickler HB, Perl S, Cheung F, The CHI Consortium. Global analyses of human immune variation reveal baseline predictors of the post-vaccination response. Cell, 2014; 157(2):499-513.
Apps R, Kotliarov Y, Cheung F, Han KL, Chen J, Biancotto A, Babyak A, Zhou H, Shi R, Barnhart L, Osgood SM, Belkaid Y, Holland SM, Tsang JS, Zerbe CS. Multimodal immune phenotyping of maternal peripheral blood in normal human pregnancy. JCI Insight, 2020; 5(7).
Karmaus PWF, Shi M, Perl M, Biancotto A, Candia J, Cheung F, Kotliarov Y, Young N, and Fessler MB. Effects of Rosuvastatin on the Immune System in Healthy Volunteers with Normal Serum Cholesterol. JCI Insight, 2019 Nov; 4(21).
HIPC-CHI Signatures Project Team and HIPC-I Consortium. Multicohort analysis reveals baseline transcriptional predictors of influenza vaccination responses. Science Immunology, 2017 Aug 25;2(14).
Olnes MJ, Kotliarov Y, Biancotto A, Cheung F, Chen J, Shi R, Zhou H, Wang E, Tsang JS, Nussenblatt R, the CHI Consortium. Effects of Systemically Administered Hydrocortisone on the Human Immunome. Scientific Reports, 2016 Mar 14;6:23002.
Candia J, Cheung F, Kotliarov Y, Fantoni G, Sellers B, Griesman T, Huang J, Stuccio S, Zingone A, Ryan BM, Tsang JS, Biancotto A. Assessment of Variability in the SOMAscan Assay. Scientific Reports, 2017 Oct 27;7(1):14248.
El-Chemaly S, Cheung F, Kotliarov Y, O'Brien KJ, Gahl WA, Chen J, Perl SY, Biancotto A, Gochuico BR. The Immunome in Two Inherited Forms of Pulmonary Fibrosis. Frontiers in Immunology, 2018;9:76.
Goswami M, Prince G, Biancotto A, Moir S, Kardava L, Santich BH, Cheung F, Kotliarov Y, Chen J, Shi R, Zhou H, Golding H, Manischewitz J, King L, Kunz LM, Noonan K, Borrello IM, Smith BD, Hourigan CS. Impaired B cell immunity in acute myeloid leukemia patients after chemotherapy. Jounal of Translational Medicine, 2017 Jul 10;15(1):155.
Ito S, Bollard CM, Carlsten M, Melenhorst JJ, Biancotto A, Wang E, Chen J, Kotliarov Y, Cheung F, Xie Z, Marincola F, Tanimoto K, Battiwalla M, Olnes MJ, Perl S, Schum P, Hughes T, Keyvanfar K, Hensel N, Muranski P, Young NS, Barr AJ. Ultra-low dose interleukin-2 promotes immune-modulating function of regulatory T cells and natural killer cells in healthy volunteers. Molecular Therapy, 2014 Jul;22(7):1388-95.
Skinner J, Kotliarov Y, Varma S, Mine KL, Yambartsev A, Simon R, Huyen Y, Morgun A. Construct and Compare Gene Coexpression Networks with DAPfinder and DAPview. BMC Bioinformatics, 2011 Jul 14;12:286-93.
Madhavan S, Zenklusen JC, Kotliarov Y, Sahni H, Fine HA, Buetow K. Rembrandt: helping personalized medicine become a reality through integrative translational research. Molecular Cancer Research, 2009 Feb;7(2):157-67.
Kotliarov Y, Kotliarova S, Charong N, Li A, Walling J, Aquilanti E, Ahn S, Steed ME, Su Q, Center A, Zenklusen JC, Fine HA. Correlation analysis between single-nucleotide polymorphism and expression arrays in gliomas identifies potentially relevant target genes. Cancer Research, 2009 Feb 15;69(4):1596-603.
Kotliarova S, Pastorino S, Kovell LC, Kotliarov Y, Song H, Zhang W, Bailey R, Maric D, Zenklusen JC, Lee J, Fine HA. Glycogen synthase kinase-3 inhibition induces glioma cell death through c-MYC, nuclear factor-kappaB, and glucose regulation. Cancer Research, 2008;68(16):6643-51.
Lee J, Son MJ, Woolard K, Donin NM, Li A, Cheng CH, Kotliarova S, Kotliarov Y, Walling J, Ahn S, Kim M, Totonchy M, Cusack T, Ene C, Ma H, Su Q, Zenklusen JC, Zhang W, Maric D, Fine HA. Epigenetic-mediated dysfunction of the bone morphogenetic protein pathway inhibits differentiation of glioblastoma-initiating cells. Cancer Cell, 2008 Jan;13(1):69-80.
Kotliarov Y, Steed ME, Christopher N, Walling J, Su Q, Center A, Heiss J, Rosenblum M, Mikkelsen T, Zenklusen JC, Fine HA. High-resolution global genomic survey of 178 gliomas reveals novel regions of copy number alteration and allelic imbalances. Cancer Research, 2006 Oct 1;66(19):9428-36.
Lee J, Kotliarova S, Kotliarov Y, Li A, Su Q, Donin NM, Pastorino S, Purow BW, Christopher N, Zhang W, Park JK, Fine HA. Tumor stem cells derived from glioblastomas cultured in bFGF and EGF more closely mirror the phenotype and genotype of primary tumors than do serum-cultured cell lines. Cancer Cell, 2006 May;9(5):391-403.
Sun L, Hui AM, Su Q, Vortmeyer A, Kotliarov Y, Pastorino S, Passaniti A, Menon J, Walling J, Bailey R, Rosenblum M, Mikkelsen T, Fine HA. Neuronal and glioma-derived stem cell factor induces angiogenesis within the brain. Cancer Cell, 2006 Apr;9(4):287-300.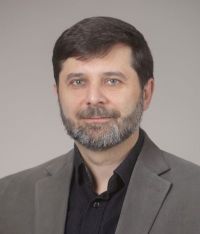 Office Address:
Room 5W126
9609 Medical Center Dr
Rockville, MD 20850
Contact Information:
Tel: (240) 276-6776
Fax: (240) 276-7888
Email:yuri.kotliarov@nih.gov